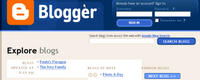 So not only did Google launch blog search (more on that in a sec), but they redid the Blogger start page to reflect the new search and drive more traffic into blogs. There's a dynamic crawl linking to newly updated blogs, a blog of the day clickable list, and the good ol' random link.
As for the new Google blog search, it seems to be indexing constantly–I could swear my first search on Jarvis & Dell via Google Blog Search turned up(undated) two posts with no dateline, while the one I did just now resulted in 578 nicely annotated posts. Oddly enough, when I used the new blog search box on Blogger to do the same search I got 550 results–have no idea why.
Meanwhile, my Technorati search on the same keywords provided a clearly labelled 699 posts with 20 posts in the last ten days and a Feedster search provided 390 dated and annotated results.
Susan sez: A good start from the big guys; let's see how the indexing shakes out as they make the small tweaks–and, most importantly–where they integrate this thing. The elephant in the room isn't their computing power, IMHO, it's the building GoogleNet suite of indispensable apps–as they hook them together, world domination looms.
Update: Nick W at Threadwatch says the new search focuses on feeds, not blogs.
Winer explains.