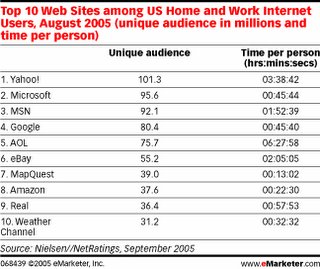 A recent eMarketer report says that Yahoo is #1 in the number of unique visitors to its sites, and also the top destination for news. According to their for-sale study, Nielsen//NetRatings data shows that in August Yahoo topped the pack in terms of unique visitors (see chart below). However, in addition, during the week ended September 4, 2005, nearly half of all Internet users logged on to Yahoo!–
This suggests that Yahoo's strategy of offering cool tools, quality data, and an integrated web environment may be working for them across the globe better than it does for #5 portal (in unique visitors) AOL, who is also pursuing an a la carte, integrated strategy–but with much weaker tools.
Susan sez: What is most interesting here is how Yahoo and Google continue to pull ahead of the pack–and what AOL and MSN will do to keep pedalling. More acquisitions, anyone?